How much you make depends on how you run your business.
How you manage costs, whether you have opted to take SMART paint repair and alloy wheel refurbishment. How quickly you grow to add more sales, staff and vehicles, what part of the country you're in and how much hard work you put into your car body repairs business.
We have proven that a single mobile Colour Wizard® workshop can turnover more than £60,000, just from SMART paint repairs - and you can talk to the existing operatives that have achieved that. How much you earn is entirely up to you. The following table gives you a realistic idea of what we charge and what you could turnover on different levels of sales: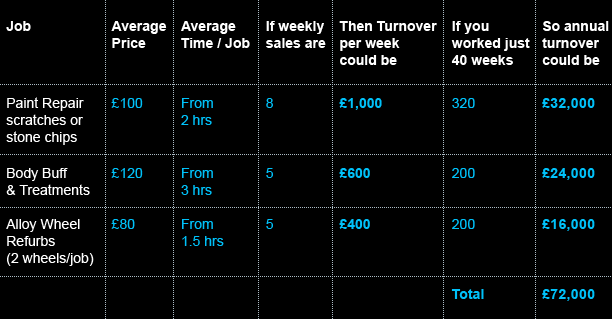 Repeat Customers. Repeat Business.
Colour Wizard® and Alloy Wizard® have built an enviable client database which includes local car dealerships, fleet, leasing and insurance companies as well as the general public. Because we are so good, they keep coming back to us for more. So you can build a more secure future from your very first job.
Better Systems. Better Potential Profits.
Our system is designed for you to enjoy the highest possible sales and profitability because our training and systems mean that you can provide the highest quality services in the least time at the best price to the most clients. And, unlike some of our competition, we allow you to serve both private car owners and the potentially lucrative car dealer market.
Come down to our body shop in Liverpool today to discuss our franchise business opportunities further and see our technicians at work, providing many of our car repairs services including alloy wheel repairs, minor dent removals and much more.